Azza
DOB: April 22, 2021
Type: Retired Racer – Australia
Gender: Male
Azza is big, affectionate boy!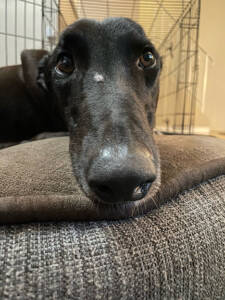 He loves to be with people and would do fine as an only dog in his home or with a larger canine for company.  No small dogs or kitties for this boy.   He is an enthusiastic boy and due to his size, may overwhelm small children.   Azza is very intelligent and needs a family that will continue to work on his obedience and manners training.   
Azza looks forward to his walks but is not a fan of long walks.  His leash manners have definitely improved   He does get very excited when he spots a small dog, bunny or squirrel, but is easily correctable using a short lead and a harness, and kept right by his person's side. currently. 
This boy definitely want a fenced yard in his forever home as he loves to spend time out in the yard exploring. His house manners are a work in progress.  Because he is still a big puppy, rooms need to be dog proofed for safety as he thinks everything is a toy and given the chance will definitely clear the counters for you. 
He does see his  crate as a safe place to hang out and go to when he wants to chill by himself. He is also ok being in there while family is in other rooms. Azza has mastered floors but is still working on stairs, he is nervous coming down and sometimes still needs help. Azza sleeps through the night on a dog bed next to his foster folks' bed.  
Azza is being fostered in Lethbridge and is available for adoption.