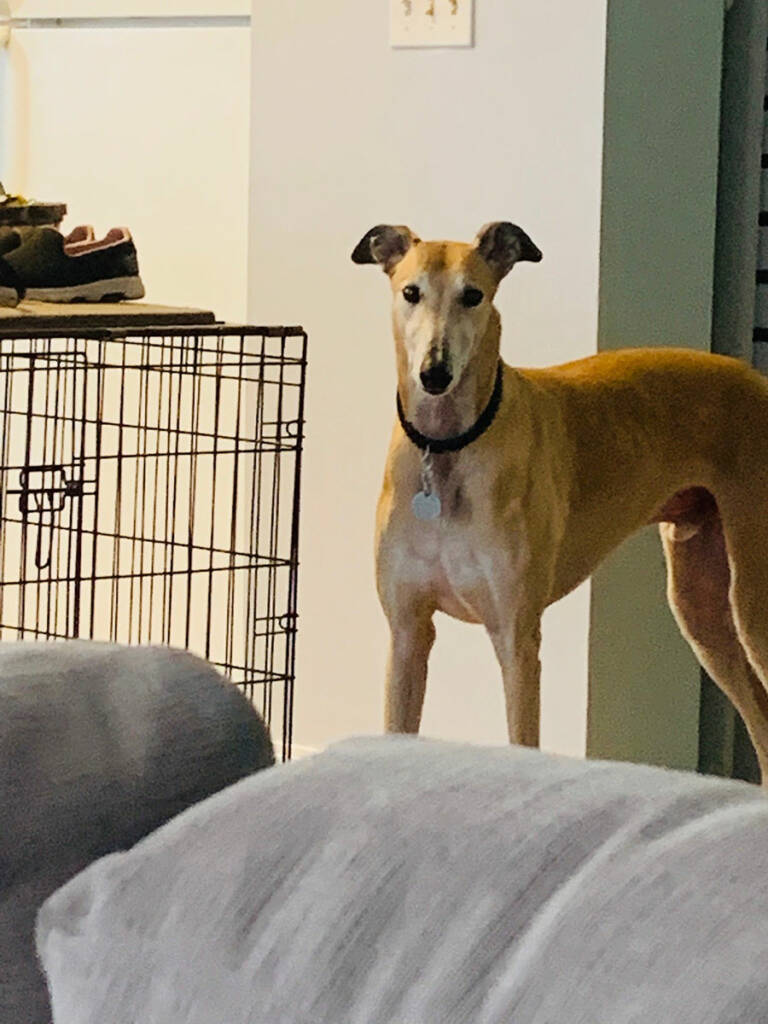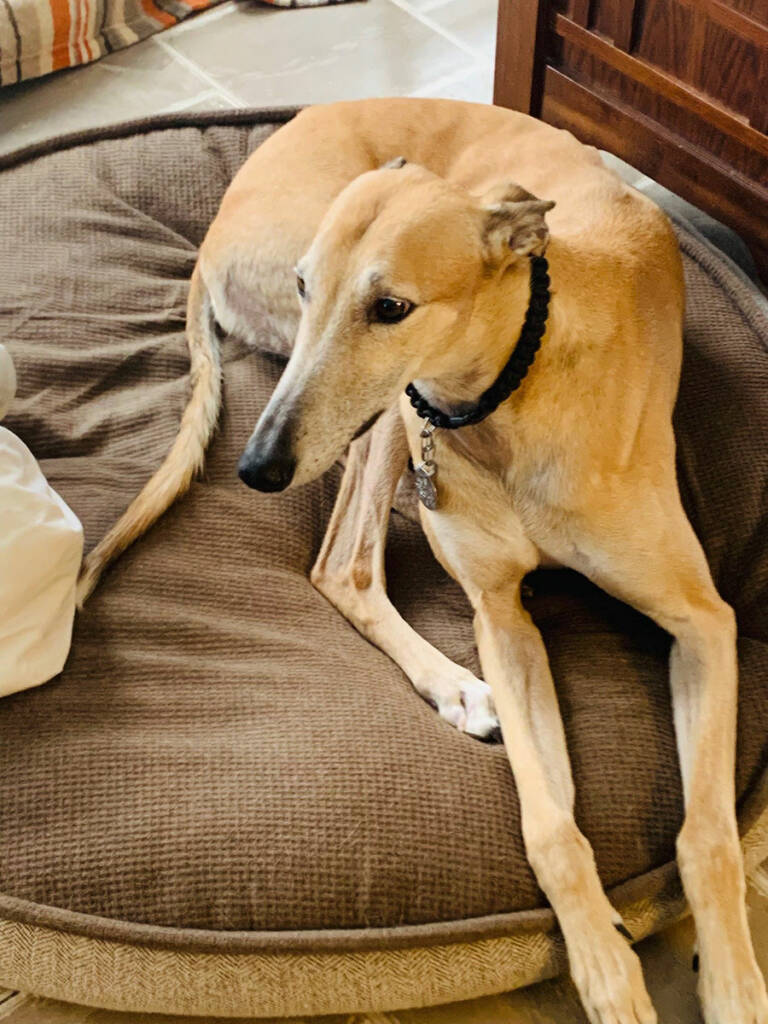 You know that guy that just can't seem to catch a break?  In NSGA that guy is Casey.
Casey came to NSGA in 2019, a youngster taking early retirement from the track.  His adjustment to home life was not easy.   Casey fretted, and paced, and whined – he just didn't know what to do outside of the kennel environment.   After a couple of attempts, we found the right foster home for him – one with multiple dogs and a set routine, closer to the kennel environment that he had been missing.  He settled well and started to really enjoy retirement.  In late January of 2020 he was adopted by a young couple that both worked from home, had lots of dog experience, and two other dogs in the home.  Perfect!
Not quite.  Soon after Casey went home he was accidentally overdosed with Ivermectin.  Instead of applying topically, as instructed, they gave him his wormer orally.  Within minutes, he was having seizures and they rushed him to the emergency vet.  Thankfully, they got him there quickly and the vets were able to administer drugs to relieve the toxicity.  But the poor guy had multiple seizures resulting in temporary blindness and paralysis.  After 5 days in the vet ICU, he went back to his foster home to finish his recovery and when fully recovered went back to his adoptive home. 
That's when we discovered that he should have been named Houdini!  Casey became a master of letting himself out of the house and the yard and going on unauthorized and unaccompanied walkabouts.  He simply watched how they opened the door or gate and when they weren't looking, he did what they did and off he went.  At least 7 times that NSGA was aware of!  On his last walkabout in May of 2021, NSGA received a call that a family had found him and he appeared to be injured and dazed.  One of our foster homes immediately stepped up to go get him as we couldn't get in touch with his adopters.  The foster family said he had a little scrape on his leg but otherwise appeared uninjured.  Later that evening he had the first Grand Mal seizure.   He was taken to the vet to be checked out and put on seizure medication. Despite the medication, Casey continued to have Grand Mal seizures of 5-8 minutes duration, every 10 days or so.  It was more than the family could cope with and he was returned to NSGA and went back to the foster home where he had done so well. 
NSGA suspects that Casey was clipped by a car in that last walkabout and suffered a brain injury.  The Grand Mal seizures continued while we struggled to find medications that could control them. The longest he went without a seizure was 8 days, the shortest time between seizures was 3 within 36 hours.  With a combination of thyroid supplements and two different seizure medications, Casey has now been seizure free since November 18, 2021.  He will be on these three medications for the rest of his life. 
The decision was made that although this boy was cat friendly, loves people and every other dog, given his penchant for getting away and his complex medical needs, he was not a candidate for adoption and was put into the forever care program.  He is in permanent care with Deb and John Ward. They cover his day to day care costs and NSGA covers the monthly cost of $145.00 for his medications. He loves being part of their large crew and has not taken himself on a walkabout since joining the family.   Thanks to your support of the NSGA Forever Care program, we think perhaps Casey finally caught his break!
DOB: October 26, 2012
Type: Lurcher/greyhound cross
Gender: Male